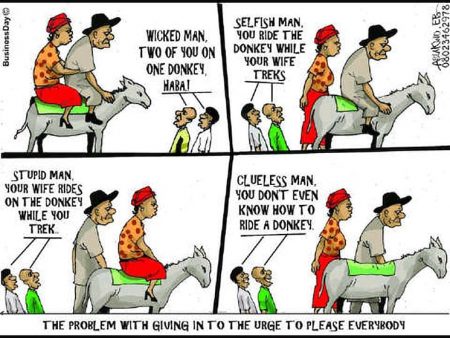 It is well said that Be deaf to peoples opinion & Negative thoughts if u want to be successful kyunki
"Kuch to log kahenge, logon ka kaam hai kehna".
Everyone will have something to say, no matter what we do and in the process of pleasing everyone we end up achieving nothing.
Many times we let others opinion, comments define our goals. We give so much importance to what others are saying that we lose focus on our goals, whereas by being deaf to other's voices we can achieve our goals.
There is a story of a tiny frog who was deaf and was not able to listen to what others said and achieved his goal despite criticism. Read through…….
''There were a bunch of tiny frogs who lived in a jungle. One of the tiny frogs had a passion to climb the tallest trees. One day he decided to climb the tallest tree in the jungle. All other frogs gathered to see and cheer him but the crowd really did not believe that the tiny frog will actually reach the top of the tree, yet they were curious.
The tiny frog started climbing the tree and the crowd started cheering. A few minutes passed, someone from the crowd shouted, "Not a chance that he will succeed! The tree is too high!"
Another frog said, "Yes, It's way too difficult!" Impossible to reach the top.
As he continued climbing he was tired… exhausted… But he still continued to climb higher and higher…
In the excitement and anxiety. the frogs continued to yell, "It is too difficult. you will not make it!"
This tiny frog wouldn't give up and finally, after a big effort, he reached the top! Now everyone was curious to know how this one tiny frog managed to pull it off when everyone thought it was impossible.
Later they realized that the winner was Deaf.
In the real world seldom we meet people who encourage us. Most people try to demotivate us intentionally or unintentionally. Many times it is not only strangers or acquaintances who play this negative role sometimes this list includes our near and dear ones like our family also. Their intention is not to hurt us but they are so protective for our well being that based on their experiences and perception they unknowingly act as Dream stealers.
Once we turn deaf to all the negativity and just BELIEVE that we can do it just like the tiny frog success will not be Far.