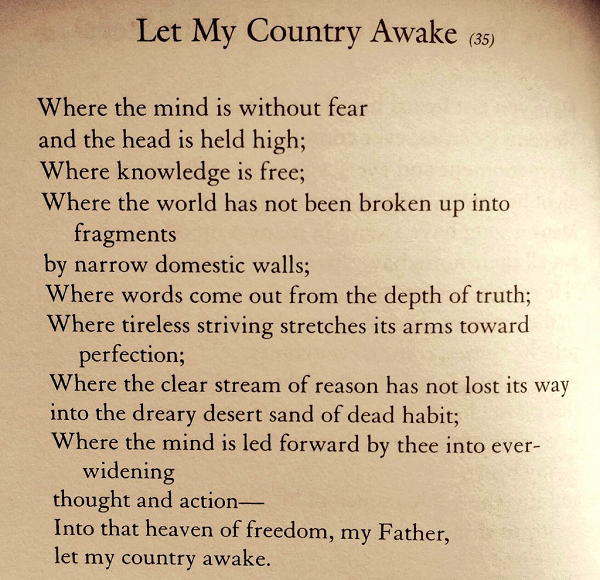 "Where the mind is without Fear"…THEN & NOW
---
We all have read the literature of the greatest Nobel laureate Poet of India – Shri Rabindra Nath Tagore.
One of his Masterpiece poems of all times "Where Mind is without Fear" was originally written in 1900 and perhaps was true at that time.
Let's see it how it will be different in today's Scenario.
Tagore's THEN
Confused Cawnpuria's NOW
Where the mind is without fear
Now the mind is always gripped with fear
and the head is held high,
& the poor man's head is pressed between the wealthier thighs
where knowledge is free.
the education has become dearer but

"knowledge-free"

Where the world has not been broken up into fragments by narrow domestic walls.
Where the every third (person of the society) has been bugged by reservation bee to stand "tall"
Where words come out from the depth of truth, where tireless striving stretches its arms toward perfection.
Where swords come out 'cause of intolerance & bruth, where merciless arms rush toward social destruction
Where the clear stream of reason has not lost its way into the dreary desert sand of dead habit.
Where the (loud &) clear scream of the innocent behind the prison has lost its way into the dreary desert sand of dead honesty.
Where the mind is led forward by thee into ever widening thought and action.
Where the mind is bogged down by thee into ever widening discrimination, distraught and distraction.
In to that heaven of freedom, my father,

"LET MY COUNTRY AWAKE!"

Into that havoc of wrath, my father,

"MY COUNTRY IS AT STAKE!"