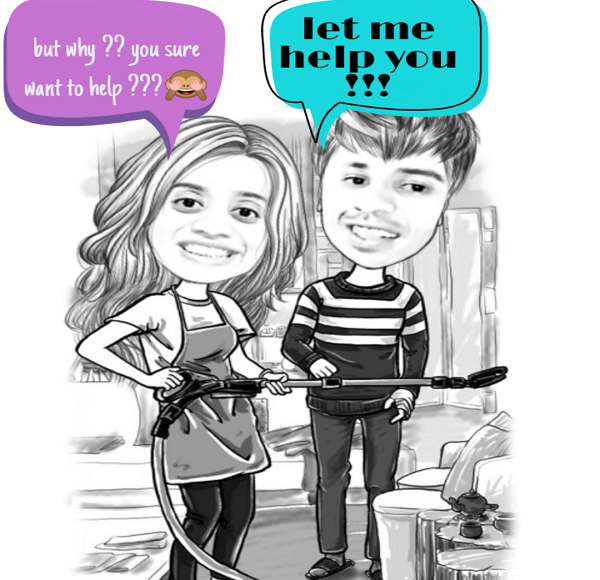 "KUCH HELP KARUN KYA MAIN?"
A Typical day during the quarantine
Gurgaon city..Sushant Lok…newly married couple(recently completed their probation of 1 year just before quarantine) living their life……………
Abhishek – mai kuch help karun kya ?
Namrata –  yes please, ek kaam karo chai bana do yar..me tab tak kuch aur kar leti hun.
Abhishek – Yar chai to tum achi banati ho…koi aur kaam batao?



Namrata – ok.. chai me bana deti hun..tum machine main kapde daal do tab tak!!!
A Few minutes later…….
Abhishek – yar machine mai kaun kaun se kapde daalne hai ? ye jo bahar latak rahe ye saaf hai ya ye bhi dalne hai…yar washing powder kaha rakha h? tum kuch jawab toh de nahi rahi ab.
Namrata – tum rehne do…me khud hi daal dungi…tum bartan jama do kitchen mai…
Abhishek – arey rahne do na bahar hi…abhi use karenge na inhe toh jamane kyo h phir inko !!!
Namrata – Bedsheet change kar do….
Abhishek – Abhi karna hai kya ? thodi der mai kar dunga na yaar….koi aur kaam batao yaar



—-Ek lambi saans lete huye Namrata..apne gusse ko control karte hue"
Namrata – toh kya karoge tum hi bata do ?
Abhishek – Arey tum aise kyun bol rahi ho…help karne ki koshish kar raha tha yaar mein to…Acha chalo mein aaj kitchen me help karta hun …Kitchen vala department aaj mera…………
Surprised Namrata handing over chai to Abhishek and both started drinking chai while looking at their mobiles….
This is a very normal scene in all houses. More or less ( I am assuming )?
So after finishing tea



Abhishek asked- what will you eat in lunch today …..what about pav bhaji??? I said ghar mein pav nahi hai (with surprised and shamed toned as if I have done something wrong by not having pav at home!!!! I don't know why).
Arey yaar…koi nahi…mein mixed sauce pasta banata hun…what say?
I was like sure…baithe baithe khana khana kisko pasand nahi hai ?
I was living the quotation – "A woman's place is in the kitchen…sitting with her feet up, sipping a cocktail and watching her husband cook." (Not literally as we are running out of alcohol and our kitchen is not that big)
So he searched the recipe on youtube and followed it religiously.
After 25 min of hard work…the pasta was ready to eat. It was truly delicious (So yummmm..I can still feel that taste).
Something I have not had in restaurants as well. No doubt he is a great chef
(Hahaha…Evil laugh..I am preparing a soldier for future  after this lockdown is over.)
After this lovely lunch, I was high on food and went into the kitchen …



Oh my god, it was a total mess…
I cannot describe the same in words.
I was not able to find a place on the kitchen platform to put anything additional.
So, with a weird smile, I went to Abhishek and asked him to clean kitchen and utensils (since he was very determined to help me that day ;p)
He said – "yes baby, karta hun na thodi der main…abhi toh khana khaya hai" and trust me guys vo THODI DER kabhi aaya hi nahi. ☹
So my sincere request to all husbands..boyfriends…babu…Shona ( In general all the MAN ) – IF YOU ARE HELPING US OR MAKING FOOD IN THE KITCHEN…PLEASE TAKE COMPLETE OWNERSHIP BY FINDING INGREDIENTS TO CLEANING DISHES AND KITCHEN.
And my Dear Husband's reply to that was – "Baby, A kitchen that's too clean has no soul. No Flavours. Don't worry I will do dishes after this game."
And this is how Ek dusre ki help karte karte ye 48 din bhi nikal gaye…and aage bhi nikal jayenge ?
PS – Now due to my constant nagging, he is cleaning utensils(one time in a day) and making tasty dishes for me.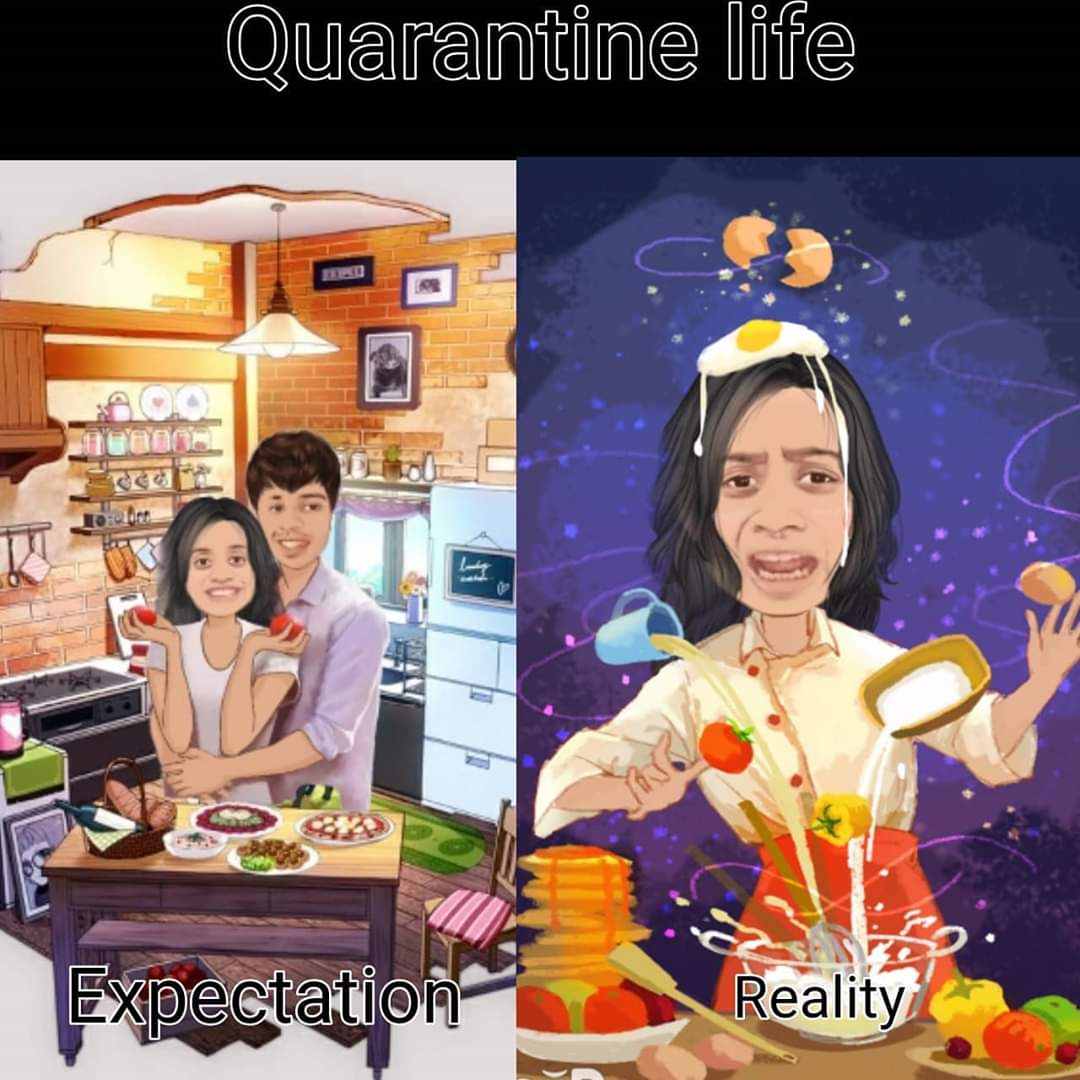 Guys, I am sure you all have such amazing lockdown stories.
Do share the same with us in comments section below.
Stay tuned, Stay at home , Stay Safe & Keep Brewing!!!