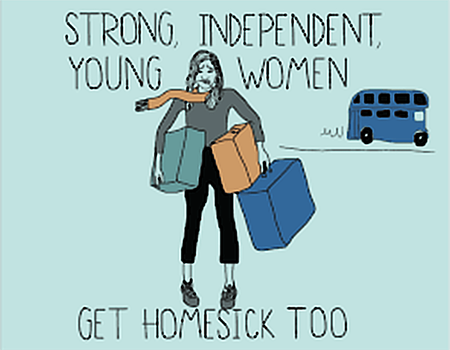 Do Independent Women Feel Homesick Too?
This is one question that I had always answered in a NO until recently and never thought that I could be homesick too despite being away from my parents home for more than a decade now.
It's not that I left my parents home after marriage only I left my hometown much before my marriage to pursue my profession and dreams. To be honest at that time I was rather desperate to leave my place as it's a small city  and I believed if I will stay here I will never be able to achieve anything in life as there are not many opportunities to grow Thanks to my parents also who never stopped me and rather gave me wings to fly.
And finally, in 2007 I left my home for the first time for my professional studies in a metro city. This was a for a short duration of 4 months so I was super excited about the idea of staying in PG with my bestie who is my childhood friend. We both had one the best time of our life going classes together, chit-chatting, shopping, etc. 4 months passed like a jiffy. In these 4 months, it's not that I didn't miss my parents or home but no trace of homesickness and when students used to say they are feeling homesick and depressed I couldn't relate to them and used to think how emotionally weak they are.
After completing my professional course in 2010 I started searching for a job and finally, I joined an Mnc in a big city and my new phase of life began.
It started as a fairytale for me with sitting on a flight for the first time, five- star stay, meeting new professionals, first salary, trips with friends. All this was so new and thrilling and exciting that I never felt homesick despite being away from home for a length of 10 months at a stretch.
Later I switched jobs and relocated to the metro city and got married in 2015 and got settled in the same city only. At the time of marriage, I was very confident that I will not have any issues emotionally missing home or parents as I was already living away from them for past 5 years and got married in the city I was familiar with and working in and had a good friend circle to socially bank on.
But after marriage, I started missing my parents more and understood what is homesickness.
Whenever I used to visit my in-laws and see my Mother-In-Law caressing my hubby's hair, oiling them, cooking his favorite meals, still taking care of all his small big things,  I missed my mom all the more. Small small gestures of my parents which I took for granted earlier now seemed Priceless and I realized the true value of parents love.
Things which used to irritate me earlier like repetitive questions of what shall I cook for you, n no of items prepared when I am sick, scolding's for not taking proper care of myself and still taking care of my all the things are now I crave for the most.
I started appreciating the fact that how carefree I can be and without any pretense with them. After being grown-up how I still can be the little princess of my parents and it's ok to not act responsibly and be yourself and that too without being judged. And most importantly I realized that strong, independent, responsible women too can be homesick and now my answer to the question is "Yes, sometimes I do feel Homesick".